Ever had that dreamy conversation with a friend about your ideal house, complimented by the picket fence with a wide plush lawn. An apple tree in the corner of the garden with a patio for summer BBQs. A back porch for winter dinners and an extra guest room for that family friend who always seems to stay longer than their "3 weeks". Do you ever have those conversations then wake up peering inside your local Foxtons with house prices longer than a Flirta D ad-lib.
Well, George Osborne, the UK Chancellor, is attempting to change that dream into a reality for many young Londoners. In his most recent Autumn statement on Wednesday, he announced Christmas early with a new Help to Buy scheme that aims to make it easier for struggling buyers to cuddle up in their own homes in London.
How does the scheme work?
The Help to Buy equity loan scheme has actually been in vogue since April 2013. The subtle change is to the maximum equity loan share %, it's been raised from 20% to 40% for homes in London. It allows homebuyers to do the following:
• Buy a newly built home with a minimum 5% deposit of the purchase price, with a maximum purchase price of £600,000
• The deposit is supplemented by an equity loan from the government of up to 40% of the purchase price
• There is no age limit and you have to be a UK resident living in the UK, although you have to have proof that you can support a mortgage from a mortgage lender
• The purchase must also be supported by a minimum 25% mortgage so you cannot buy the house outright with your own cash and the government's equity, the mortgage can only have a maximum tenure of 25 years
• The government's investment guarantees them X% of the sale proceeds if the house is ever sold, with X being the agreed equity loan %
The diagram below helps to breakdown the calculations involved, where X = 20.

A sore score is the fact this scheme is only applicable to NEWLY built homes, so there's no borrowing for that house on your road with the bright "FOR SALE" sign.
Another slight annoyance is the reality that nothing comes for free, the government are happy to give you the equity loan interest free for the first 5 years. After the 5 years are up, you are liable to pay 1.75% p.a. on the loan. The interest levy increases yearly by RPI+1% where RPI is the rate of UK inflation. Once again the diagram below helps breakdown some potential interest repayment costs.

Will his policy work?
Yes and no, you're confused already right? One of the great arguments for this scheme is the expected increase in accessibility of young people. The 40% equity loan frees up considerable capital for home buyers, allowing them access to the property market at an earlier age. Imagine realising that instead of having to save 50k for the mortgage deposit, you can now get away with 10k?
Another key benefit is the £3000 freebie for 1st time buyers through the Help to Buy ISA, any first time buyers using this scheme to jump on the property ladder are liable to receive £3000 to go towards the purchase.
The pitfalls
A crucial point that stands out is the equity loan is really only accessible for those that can afford to pay off monthly mortgage payments of up to £1300/month but not afford the £40,000 – £70,000 deposit that comes along with such a home in London.
Most important of all though is supply side! Alongside the amended Help to Buy scheme, George Osborne also mentioned a new housing policy that will hand private sector house developers billions in order to build 400,000 new homes. A policy that aims to incentivise the industry to build new homes to accommodate an expected rise in demand. Wonderful news, young couples and singletons everywhere are ready to roll up to their drive ways and jump into their new living rooms.
Unfortunately, this is not the case, as highlighted in one of my previous blogs. Without the supply to meet the demand, any changes to access to property will not impact the availability. More people may have the money for homes but there still won't be enough houses.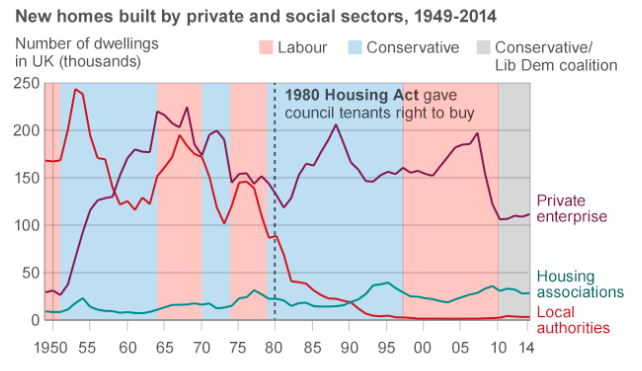 This is evidenced by the supply side market dynamics, over the past 3 decades, housebuilding in the UK has not surpassed 300,000 houses/year. The private sector house builders have little incentive to change tact, Barratt has increased house completions by only 28% since 2012 but revenue and earnings have grown 60% and 300% respectively. This is coupled with the fact that many banks, still haunted by the 2008-9 crisis, are afraid to loan capital to homebuilders to allow them to expand supply; and the complex UK planning rules that restricts building.
Without government intervention in housebuilding and an improvement in planning permission procedures, the number of available homes for purchase simply won't grow fast enough to meet demand. Buyers will still face issues where they're too late in the bidding process or properties are bought off-plan. The lucky few who do get a slice will buy at steep and eye-watering prices.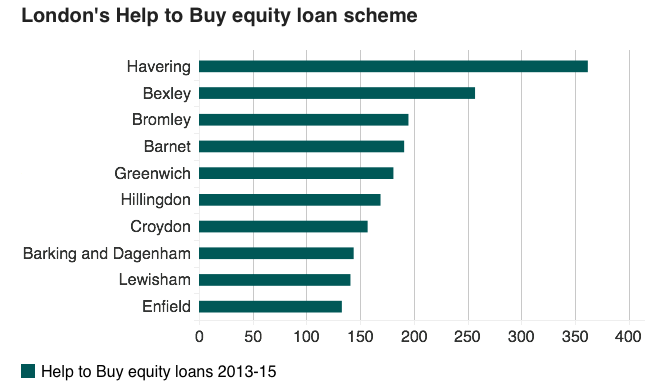 So, what does CM think?
Ok, the last few paragraphs were dramatic, but they do provide some context and reality to the white ticket fence dream. If you can afford the 5% deposit and the associated costs to finance the loan then go for it, it'll be an ample opportunity to dip in London's exclusive new build market.
The new Help to Buy scheme will increase accessibility to capital for homes but do not think in any way it will impact the market dynamics on the supply side. It will be a rat race to secure a home and the benefits will largely fall on the minority who can afford a 5% deposit in a city where the average house price in London is £499,997.
Two words of advice, good luck.
More information on the new scheme can be found here.