People are always asking for advice about investing and they typically get general responses like the below.
Save before you spend!
Buy it low then sell it high!
Just go on a trading course, my friend made 300 pounds after just 2 days of training!
All of the above phrases are definitely advised with good intentions but they omit one valid requirement – time. We've already discussed how important time management is in a previous post. It is very difficult to balance university, work or outside interests with research on the financial markets. In addition, we are often lumped with high student debt or huge borrowing costs when we decide to get on the property ladder. All of this is coupled with a low interest rate environment, where most high street banks are offering meagre returns for savings accounts or fixed-rate ISAs.
On the opposite spectrum, it appears the wealthy are enjoying a different predicament. The wealthy don't seem to spend their efforts researching Australian GDP figure releases at midnight or trying to ensure their stop-losses are active for when the eurozone inflation data is out. Instead, they give their money to asset and fund managers to invest for a fee, say 1%-2% a year. The minimum investment is often around 10,000 pounds with a set contribution amount for every month of say 500 pounds or more. So, how can you make your money grow if you're time-poor and cash-poor, one word, Nutmeg.
Nutmeg, I thought that was a spice?
Nutmeg is an investment management firm tailored to retail investors. You can set up a fund with the firm online and they take care of the analysing, researching and executive investment decisions. Which leaves you with time to enjoy what you want.
How does it work?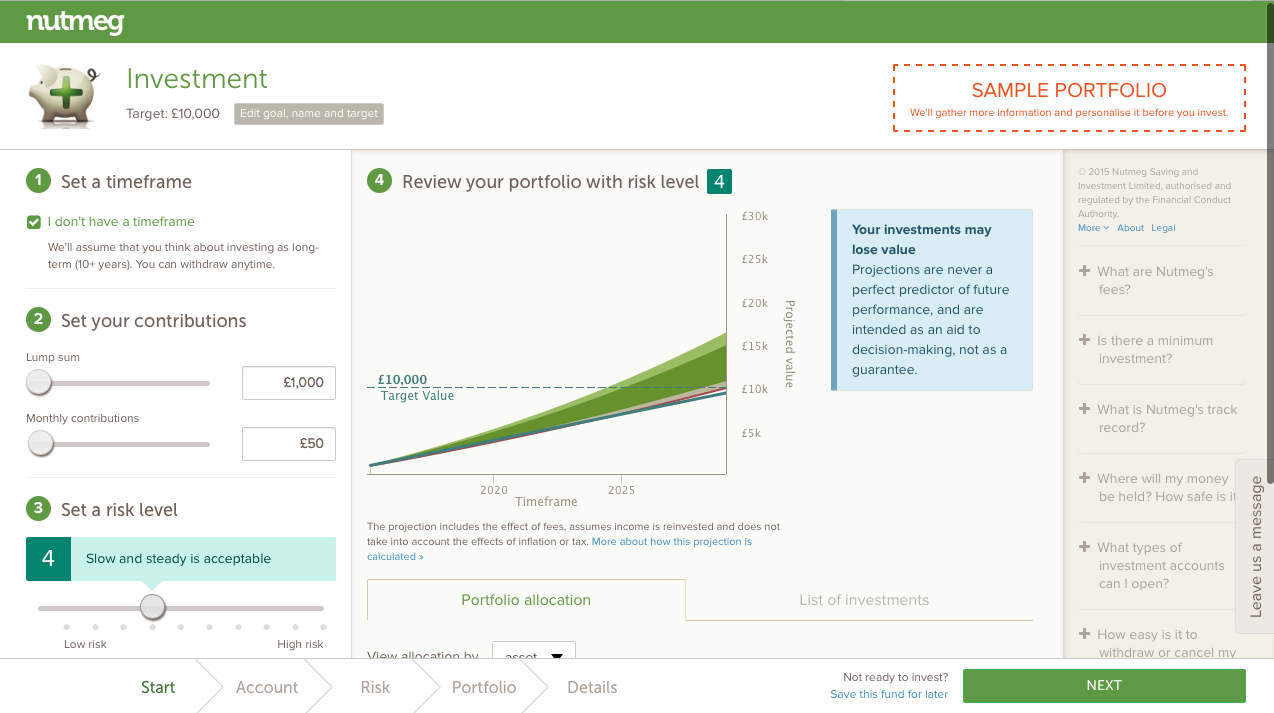 As per the above diagram, you have to invest a minimum outlay of 1,000 pounds, you then have a choice to make monthly contributions which can start at as little as 50 pounds. The firm requests you to take a survey in order to judge your risk appetite, you can then choose a time horizon and risk setting which provides a rough overview on how well your investment would do in the long-term. You can choose a risk setting that best aligns with your risk-return optimum, do you want to see strong returns with high volatility. Perhaps you'd rather have steady returns with less chance of your fund's value swinging up and down. Nutmeg gives you that choice to choose and it can help plan long-term investment goals without your money sitting idle.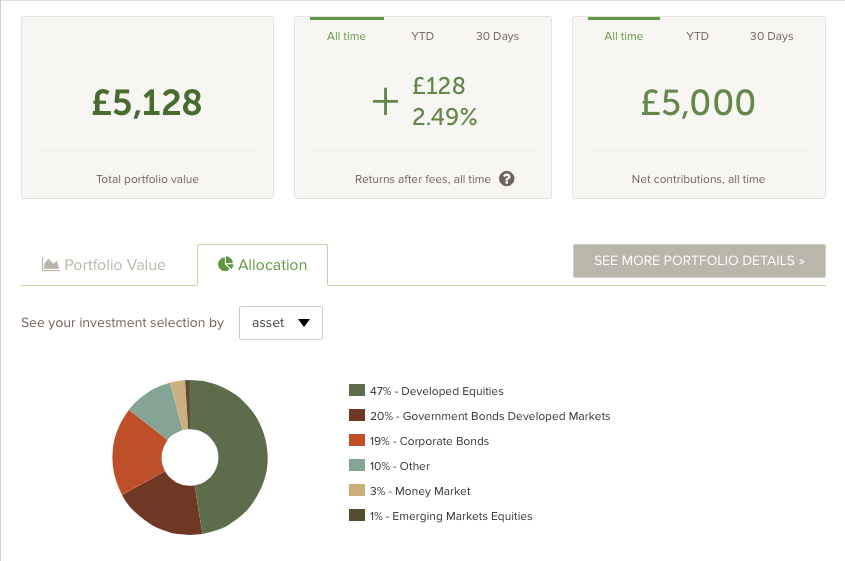 Your nutmeg portfolio updates daily and you are able to login at any time of the day and view your return on your contributions. The online platform even allows you to view what assets your portfolio consists of, whether that be by sector, asset type or country origin. It allows you to enjoy the fruits of investing without the labour, do check it out if you're interested.
A word of warning, like any investment, your fund value can go up as well as down depending on how financial markets perform. Therefore we'd advise to only invest money that you can either afford to lose or afford to live without for a period a time. That being said, you can withdraw your money from the fund at any time, and depending urgency of your request, you can either do this for free or at a set fee.
Please also be assured the information provided does not in any way constitute as an investment recommendation. We advise anyone interested in Nutmeg to read through their terms and conditions throughly and contact a financial advisor before making an investment decision regarding this product.