As global demand dampens and commodity prices tumble, the base metals industry is witnessing a challenging period that is inducing hesitation in large investments, whilst implementing structural changes in mining companies to reduce costs. Copper is one of the most abundant and widely used metals, with demand stemming from use in electrical wires, transport and power grids. One third of reserves are held by Chile, followed by Australia and Peru, whilst production mainly stems from Chile, China and Peru.

Pricing
The International Copper market is very competitive, prices are set by the LME and the futures market is well established. Consequently, the pricing is reflective of market conditions and has experienced a volatility over the past few years. Copper price was $9000/tonne before the financial crisis in 2008, then fell to $3000/tonne in the 1st quarter after the financial crisis. It then went up to $10,000/tonne around 2010-11 due to positive market sentiment from China. Since then, prices have been unable to recover to 2011 levels, with present copper price is at $5940/tonne although for the first time in five years , present copper prices are higher than at the same time last year.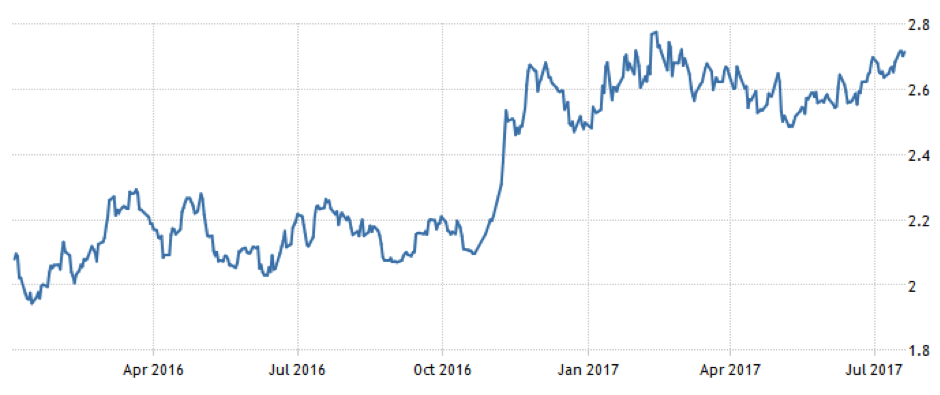 Treatment and refining charges (TCRC) which are used to price concentrates are also a proxy for market tightness. When they fall, it is indicative of insufficient supply in the trader-smelter part of the supply chain.
Market Outlook
Any sustained recovery in the copper price is likely to be steady rather than dramatic and any upside to prices this year is likely to be limited by a backdrop of rising US interest rates and an appreciating dollar which have a domino effect. Higher interest rates mean the housing market will slow down as consumer borrower reduces, which consequently leads to an economic slowdown and a fall in demand for metals. Over the medium term, consistent growth in copper output partnered with modest demand projections mean that accumulated copper inventories over recent years will only be cast-off gradually.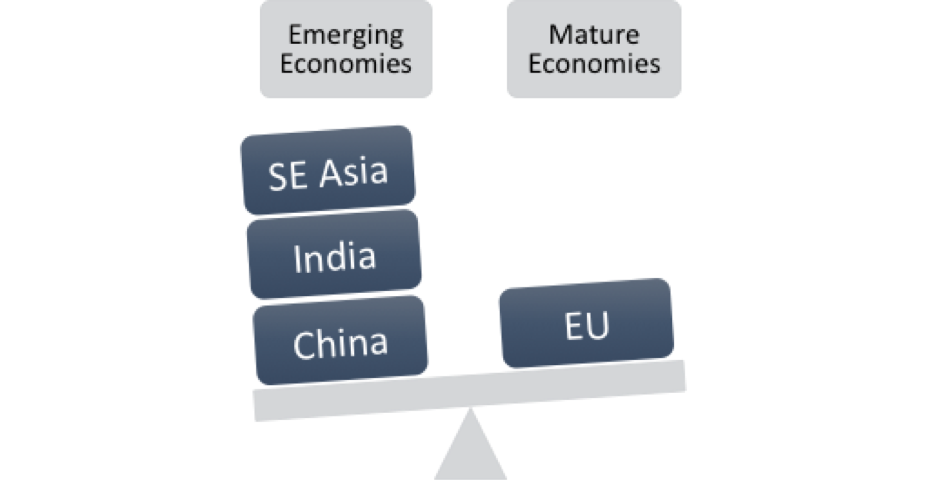 Forecasts suggest there will be no significant spike in prices due to market tightness until early next decade . A positive demand outlook from Chinese electrical and transport sectors, emerging economies in South-east Asia and India will be neutralized by plateaued growth in more mature economies. If market prices do increase, increased use of scrap metals which is priced at a discount will likely be observed.
Trumponomics vs. China
Earlier in 2017, The prospect of a demand boost due to President Trump's Infrastructure spending plans contributed to a positive market sentiment. However, Copper prices fell 1.89% to $5495/tonne, not far from the lowest level of the year of $5450/tonne hit in January , as uncertainty looms over Washington due to doubts on whether Infrastructure stimulus will be realized. President Trump's market moving tweets also have a marked effect on the dollar, which is inversely proportional to metals prices. A weaker dollar means higher copper prices and vice-versa.
In reality, the pivotal factor in painting the demand picture for refined Copper is China, which accounts for almost 50% of global copper consumption. Chinese demand is expected to increase by 2% annually until 2022, which is 0.3% higher than the annual global demand growth rate.
Miners and the Copper Supply Chain
Although there have been inconsistencies in the supply of copper due to mine strikes in Escondida and several African mining operations, copper supply growth is forecasted to resume in 2018 as Glencore's African operations and brownfield expansions at Escondida in Chile, amongst others come online. These strikes have resulted in temporary undersupply and led to falling treatment and refining charges (TCRC) in China, which are a signal of undersupply of copper concentrate to smelters.
My 2 cents…
In accordance with majority of forecasts, my prediction in the short to medium term is for copper prices to rise gradually only to levels sufficient enough to support new investments and project developments. In the long run, the state of the copper market will be determined by the supply-demand growth balance between mature and developing economies.