Prior to the 'rise of the robo-advisor', when it came to investing you had two main options:
1. Hire a financial advisor
2. Manage your investments yourself
For a young investor, these options can be quite overwhelming, particularly option 1. However, robo – advisors are opening up more opportunities for young investors
.
This post takes a look at some of the advantages and disadvantages of robo-advisory services for young people.
What is robo advisory?
Robo-advisors are digital platforms that are run on algorithms to provide financial planning services. In terms of getting started, you'd typically sign up to a robo advisory platform, and enter in some information based on your financial situation and investment goals.

Based upon that information you give you will receive advice, or it will automatically invest client assets. By 2020, it is predicted that the value of assets that are managed by robo-advisors will have reached $8 trillion.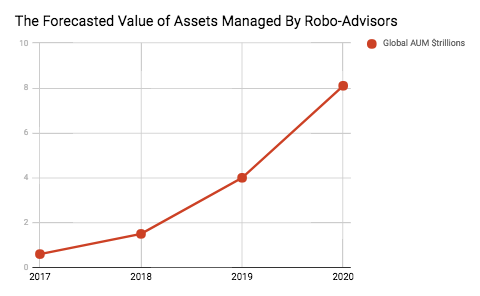 Here are some of the benefits of robo-advisory for young people:
● The platforms are generally easy to use with intuitive interfaces, which make it convenient for tech savvy millennials
● Low fees – providers such as Wise Banyan and Charles Schwab have 0% management fees
● You can invest small amounts – so you could deposit say $20 into your account to be invested. This is a particularly beneficial feature for young investor
● Some platforms offer services such as automatic tax-loss harvesting, which was traditionally reserved for individuals with access to a financial advisor
However, not everyone agrees that the benefits of using robo-advisory overshadows traditional financial advice. Here are some of the disadvantages:
● Robo-advisory services are a relatively new method of investing, therefore we will have to wait a while to assess the extent to which robo-advisors prove beneficial to young investors.
● By using a robo-advisor you don't get the 'human touch' that you would with more traditional financial advisors who may be able to offer advice that is tailored more specifically to your individual circumstances.
● MarketWatch conducted a study comparing the portfolio recommendations of robo-advisors to traditional human advisory services. The results revealed that there was a significant difference in the advice given from the two investment methods. Therefore, young investors should conduct adequate research before selecting a robo-advisor
Conclusion
Thanks to technology, young investors have more options available to them to build up their portfolios and achieve their investment goals. Whilst robo-advisory seems like a more accessible option for young people it is vital that you weigh up the advantages and disadvantages in line with your personal financial situation. It's also worth mentioning that there are several human financial advisors out there who have made their services more accessible, such as The XY Planning Network, so that they can work specifically with young investors and millennials. Some of these advisors even incorporate the use of a robo-advisor to provide automated services such as tax-loss harvesting, so that they can focus on other areas of the portfolio.