Starting out in the working world, you may be fortunate enough to be accepted onto a scheme at a great company that has clearly defined a path in which it wants to invest in your professional development. However, this is not always the case. For those who did not make it onto these schemes, you may find yourself having to define your own path.
So what is professional development and what does it mean to pilot your professional development? It is the increase of knowledge, professional qualifications or soft skills that will aid in the success of your current role and long-term career. Piloting your professional development means being proactive, taking responsibility for your professional growth and positioning yourself to be perpetually marketable to any employer.
Professional Qualifications
The reality of life is that learning does not stop once you leave college or university; to remain relevant to the job market or any industry you will have to make efforts towards continuous learning. More importantly, if you are serious about standing out from your peers, (who could all have the same educational background as you) it is important to research the different avenues that can get you ahead of the game. There are numerous professions that require candidates to obtain additional qualifications after attaining an undergraduate degree to ensure that they are 'qualified' and sufficiently knowledgeable to carry out certain tasks. For example, as an accountant the AAT qualification is the minimum required qualification essential to carrying out relevant tasks. Aspiring accountants usually go on to pursue higher-level qualifications such as ACA, ACCA, CIMA etc.
Similarly, candidates in the investment industry are encouraged to take on qualifications such as the IMC, IOC or CFA to progress their careers. Obtaining some of these qualifications such as IMC and CFA means candidates meet regulatory requirements to manage, deal and advise on investments. In this dynamic and constantly changing job market, an undergraduate degree is simply not enough to remain competitive. Therefore, employers now request for certain qualifications as a pre-requisite before considering candidates for specific roles. Explore the industry standard qualifications that can better your career prospects and provide the knowledge needed to succeed.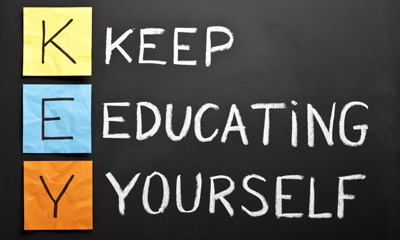 Increase of knowledge
In any role or career you wish to excel in, it is always important to understand what it entails and attain the relevant knowledge that enables you to reach your full potential. You can naturally fall into becoming an expert by gaining specialised knowledge in a particular area within your company or an area that is directly relevant to your industry. Aiming to increasing your knowledge can improve your employability, confidence in your knowledge base and can even facilitate the shift in direction of your career. New found knowledge can potentially open up opportunities for you because you are familiar with that domain. Continuous learning and understanding of new things pertaining to your job will show your employer that you take initiative to better yourself and are forward thinking. Joining forums on LinkedIn, investing in books and networking with the right people are all steps in the right direction to increasing your knowledge.
Skills
There are many skills that are crucial to success in any given role such as sound communication skills, organisational skills and the ability to work well in a team. These are soft skills and you may find that prior to starting your career you have already obtained and developed these skills in your everyday life. However, there are certain skills that are not as easy to develop from life's experiences. For example, if you wish to apply for a role that you are suitable for but it requires of all candidates to have coding skills such as SQL or maybe even sound Microsoft Office proficiency. For technical skills like these, specific expertise is needed and a short tailored course from a free online academy or a local college could be beneficial in attaining these skills. There are a plethora of online resources such as Udemy and Code Academy that offer training to develop technical skills in different areas.
Employers sometimes neglect their employees and do not have a genuine interest in their career development. However, you cannot wait for your company to believe and invest in your growth. Instead, you must take ownership of your career development and take the necessary steps invest in yourself. Firstly, establish an end goal by attempting to visualise an idea of what your career should look like in the near future. Secondly, do your research and also ask yourself what are the necessary skills, knowledge and qualifications to have a successful career in your industry. Finally, devise a career strategy and aim at self-improvement.