The fate of Organization of Petroleum Exporting Countries as a super cartel and oil market influencer since it was founded in the 1960s is impinged on the burning question that all industry analysts, traders and spectators are asking, "Will OPEC members comply with the agreed cuts?"
Since the OPEC Meeting in Vienna on November 30th where member countries agreed to a 1.2 million barrels a day cut in production partnered with the consequent meeting on December 10th where non-member countries, including key players such as Russia, Kazakhstan and Oman agreed to an additional 600,000 barrels a day cut in supply, the markets have not only been fluctuating but are tense in anticipation of whether or not the supply cuts scheduled to begin in January 2017, will be implemented. So far, OPEC production has declined approximately 221,000 barrels a day mainly from Saudi Arabia and Nigeria, while Russia has reduced its output by 108,000 barrels a day according to its official Government reports.
"The role of OPEC in the present oil market will be determined and sealed by the pace and efficiency of market rebalancing" –Micheal Tamvakis, Author "Commodity, Trade & Finance"
Following the November 30th meeting, global oil prices rose 12% to an 18-month high of $58 a barrel. Traders and producers rushed to lock in future cash flows but nonetheless, in January 2017, Crude prices have dropped by 5% as trading houses await compliance reports to see if OPEC, who has a questionable past with following through with agreed deals, will prove otherwise.
But first, what are the effects of this major agreement on the markets thus far?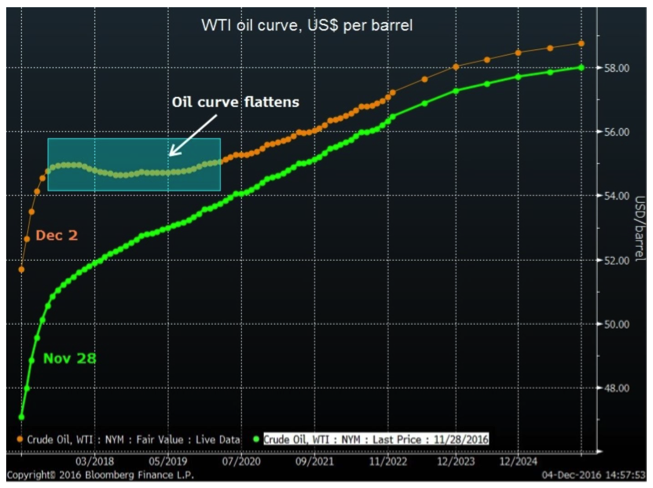 Brent time spreads, also known as futures curves, which show the difference between Brent crude prices for different months provide an insight into the oil markets in relation to the supply, demand and demand for storing oil. The normal state of the curve is in Contango; meaning prices for later months are higher than that of earlier months. Following the November 30th meeting, US Shale producers rushed to take advantage of the high prices by hedging their risks and locking in their future cash flows. This implies a potential of higher US production next year, a major threat to the success of the OPEC supply cuts. This rapid producer hedging also flattened the Brent futures curve, meaning WTI crude for delivery in December 2017 is more expensive than that for June 2018, a condition known as Backwardation.
The crude price hike as a consequence of the supply agreements also has consequences of its own, especially for Tanker markets with derived demand based on commodities such as Crude oil. An increase in oil prices translates to an increase in transportation costs for shipping providers due to higher bunker fuel prices. A rise in oil prices also simultaneously leads to fall in demand for Oil itself due to availability of cheaper, more carbon-efficient fuels such as Natural Gas and Renewables. This translates to a fall in Freight rates and demand for tankers in general. However, this loss of volumes being transported could be balanced by an increase in US Production, higher demand from developing nations such as China and longer distance trades from the Atlantic to the Far East.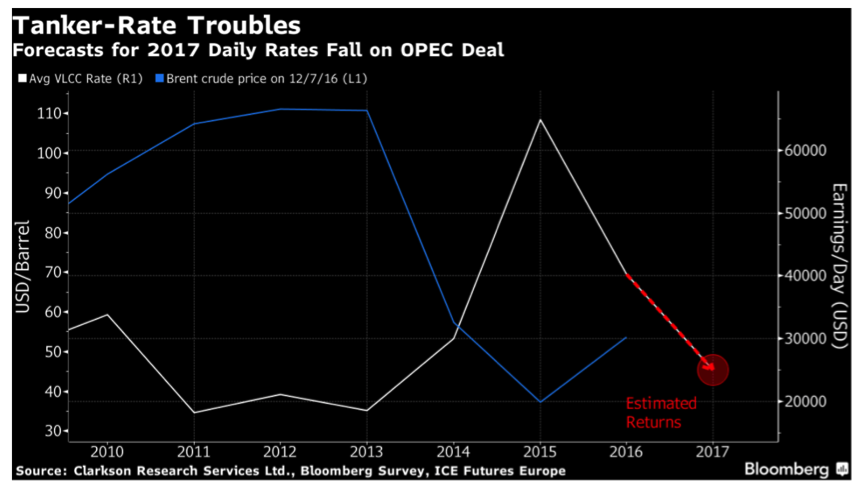 "Despite oil trading volumes increasing by 42% for trading houses such as Trafigura from rising US exports…profits have still fallen from 2015" –Bloomberg
In 2016, trading powerhouses such as Trafigura and Vitol Group have struggled to match the massive oil-trading profits of 2015. This is due to the lack of large price swings and a contango futures curve that created arbitrage opportunities for traders and allowed them to lock in returns by storing cheap crude for delivery later at higher prices. The OPEC meeting on one hand has created volatility in the markets, which favours traders but often counterbalances this by unforeseen effects such as the reversal of futures curves.
So will producers actually follow through with the agreed cuts?
Kuwait's energy minister, who is in charge of monitoring compliance, says OPEC is 80% there with 1.5 million of the 1.8 million barrels confirmed and is optimistic that the cuts will be completed by the end of January (Sam Wilkin, Bloomberg News). However, the markets will have to remain in anticipation until February 17th when the official figures will be submitted. The timing of the rebalancing of the oil market is debatable as estimates from Kuwaiti and Saudi energy ministers vary from early 2017 to mid 2017. The major influencer to this timing is undoubtedly the US as their rising shale oil outputs and changing energy policies from newly elected President Trump will have a major effect on the Oil markets, inventory levels and prices.
My 2 cents…
The current market situation is very similar to that of the 1980s but the fate of OPEC as a market influencer no longer only lies in the fact that it controls 40% of global oil output. With Saudi retreating as swing producer, US output rising despite the bold efforts made to cripple the shale oil industry and geopolitical uncertainty, the sovereignty of OPEC has undoubtedly been crippled. However, compliance monitoring and co-operation from influential non-member states to contribute to supply cuts and revive the oil industry remains a source of optimism for hopefuls.