London's first high-end Nigerian restaurant, Ikoyi, is to debut at the St James's Market in the West End this summer. Ikoyi will be a first of a kind contemporary West African Restaurant located in central London and is set to open on Saturday, 15 July 2017. Our recent Capital Moments tweet about Ikoyi went viral so we sat down with the head chef and director, Jeremy Chan, to find out more about the business.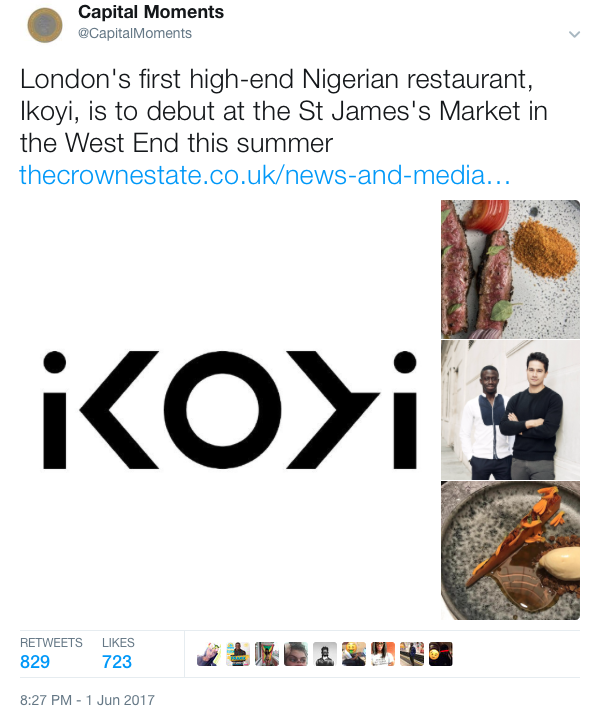 First off, congratulations on the launch of your unique culinary enterprise, it's inspirational to see London's first high-end West African restaurant, could you give us some more information on your personal background and story?
Thanks!! Iré and I are old friends, we have known each other half our lives. Iré used to work in the city, and so did I for a short while, and then moved to working in kitchens, including Noma and Dinner by Heston on my resume.
Now, what gave you the idea and inspiration to open Ikoyi and where did your original interest and passion in West African food come from?
Ikoyi is made of a small, culturally diverse team with enormous passion and creativity and will be a first of a kind Contemporary West African Restaurant. The restaurant will use modern cooking techniques and innovative presentation to interpret West African food for a global audience.
Ikoyi will be introducing "Jollof Cuisine", the term coined originally from Jollof rice – a dish found ubiquitously throughout the 17 countries of West Africa – placing the concept central to its narrative. The menu is inspired by the notion that while Jollof rice has taken myriad forms throughout every country within West Africa, each interpretation still maintains the same name. The traditions of hot chilli peppers, meat or fish stock and a tomato based broth stay relatively consistent, but there are still vast inconsistencies: a Ghanaian would insist on using Basmati rice, for instance, and a Senegalese would leave vegetables whole.
Ikoyi will interpret West African Cuisine in this context, linking it to its roots and former influences. We believe this will give rise to a new kind of cuisine, one that is applicable to a wider, global audience. Our objective is ultimately to create delicious food, but underlying this is a greater project, that is to understand and develop our perspective on West African food and its origins. Although Ikoyi will serve its own version of Jollof rice, the dish will be an accompaniment to an ambitious menu exploring many different ingredients, with the aim of having several signature dishes, such as Nigerian Beef Suya, Wild Black Tiger Prawn, and Plantains with Scotch Bonnet and Raspberry.
Inspiration, as in any creative process, comes from experience: travelling, tasting, memories, thoughts and feelings from all corners of the brain and soul.
You're still quite young, how do you balance Ikoyi with external commitments and how many hours a week do you put into the business?
I work all the time, Ikoyi is my life at the moment! We are truly passionate about creating the best possible experience we can for our guests and so we make all the sacrifices to ensure every single detail has been covered, from the cutlery to the lighting, to the balance of spices and peppercorns we blend into our Yaji for the Beef Blade Suya.
London is often said to be the home of quirky social experiences and global cuisine, how do you think your company can beat the competition?
Ikoyi is something totally personal and unique to Iré and me, it's not something we have copied or recreated from elsewhere, and so in a sense there is no other concept / competition that you can directly compare to what we are doing. Ikoyi is an extension of our identity. Our vision is to never compromise in terms of creativity, quality and originality.
Outside of your obvious talents in business and cooking, what else do you do in your spare time?
A lot of cooking at home, but a different kind, less thought out, more spontaneous and family style.
Going back to your passion for food, if you could recommend one West African dish from your menu, what would it be?
Wild Black Nigerian Tiger Prawn – The lobster of West Africa? Who knew that this part of the world was producing luxury ingredients supplied to some of the world's best restaurants. Our mission is to let this sweet, deeply oceanic flavoured prawn take centre stage on our menu. The ingredient truly allows us to define our take on Nigerian cuisine by using it as one of our key ingredients, since we are able to call our cooking West African not by the traditions we follow, but rather the source of the products we choose to serve.
We roast the shells in a pan, deglazing with white wine and pastis, combining with a confit of lemongrass, ginger, red onion and scotch bonnet, as well as toasted "Banga Spices" (traditional Banga soup is a bitter, fragrant soup with anise/menthol flavours), we add some diced tomato for acidity and colour, palm nut fruit butter, and then the entire mixture is simmered together in a kombu dashi for 15 mins. We infuse and then blend the bisque until fine and pass twice through a double muslin to create a deep orange silky textured sauce.
Finally, we finish the sauce with fresh raw Pastis, to give the throat some more heat and intensify the anise flavours. The prawn is served in a large bowl over caramelised yellow corn grits seasoned with chardonnay vinegar and citrus, sautéed sea beets, and the bisque poured over at last minute. We serve half of the prawn head, the best bit, rubbed with a paste of black garlic and lemon thyme, grilled and covered in a delicate salad of amaranth and oxalis – a small spoon to scoop the umami prawn brains and acidic condiments.
Now building on your business, where do you see the Ikoyi brand growing in the next 10 – 15 years?
We hope to expand the creative possibilities around West African concepts and cooking, and to bring Jollof Cuisine to a level that will compete with any other of the world's great cuisines.
Now lastly, many young people have great ideas and business ambitions but lack vision and direction, can you please advise us of your 1st 'Capital Moment', essentially a key piece of insight that you know now that 'you wish you knew at 16'?
Be prepared to question everything and trust your instincts.
If yo want to find out more about Ikoyi London, visit their website for more info: www.ikoyilondon.com