Asos is one of the original apparel e-tailers that expanded beyond the U.K., targeting shoppers within a 20-something demographic. The company's task of rebuilding profit margins is coming up against higher import cost, as well as the continuous spending required for warehousing and technology upgrades.
Asos' sales have accelerated abroad, and may continue to help offset slower growth in the U.K., its most mature market, where results are increasingly driven by customer loyalty. The company is leveraging the pricing advantage gained from the weak pound to accelerate expansion abroad, including in Russia and Australia, while also investing to upgrade fulfilment services to attract new shoppers. The U.S. is now Asos' fastest-growing market, where competition is increasing with Boohoo's acquisition of the Nasty Gal brand.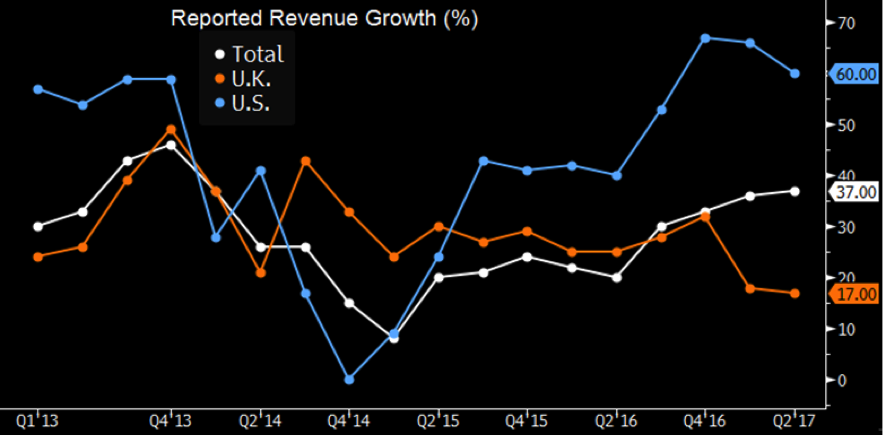 For apparel e-tailers like Asos, the possibility of a capital-light model is remote. Sales growth must be matched by infrastructure spending to satisfy the need for faster deliveries, and the penetration of mobile shopping requires constant software updates to keep customers. Asos' capex is expected to almost double in 2017. High capital spending will likely persist with its rapid expansion overseas. A larger U.S. warehouse is being planned.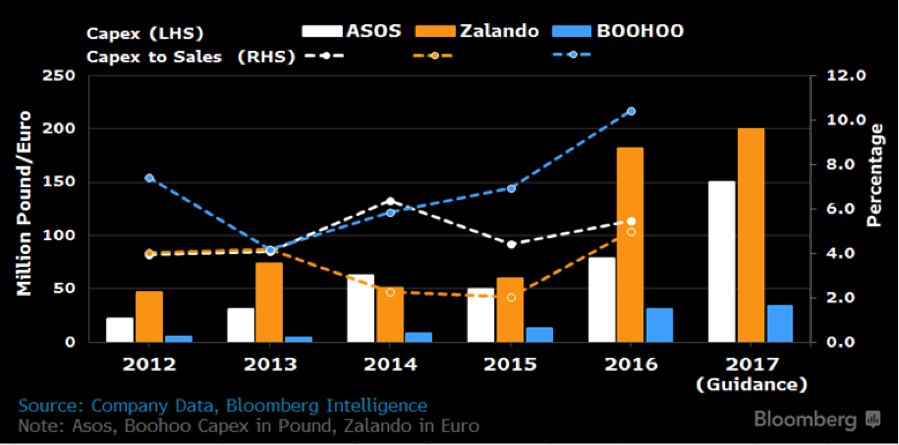 Encouraging shoppers to purchase larger baskets improves fulfilment efficiency at apparel e-tailers, which also supports sales growth to lead the pace of customer addition. Asos' peer e-tailer Boohoo increasingly focuses promotions on products, rather than delivery, helping to raise its average basket value in the last 18 months. Another peer Zalando, with older target shoppers and better customer loyalty, has an average basket value 15% higher than that of Asos, helping sustain sales growth — even with slower customer additions.
By Shan Liu
Research Associate – European Retail
Bloomberg Intelligence
Interested in understanding more about Bloomberg Intelligence? Want to get up close and personal with our research teams? Apply to attend the Get to know Bloomberg Intelligence event on Wednesday 26th July 5-7pm to learn more.