Apple's mobile payment system 'ApplePay' went live in the United Kingdom on the 14th July, after months of preparation from the Cupertino-based tech giant. Since going live in the USA in October 2014, Apple Pay has joined a growing list of payment systems all aimed at refining the mobile consumer experience. The potential of Apple Pay is interesting, due to the fact they're competing on two fronts, online payments and point-of-sale (POS) – i.e. paying at the shop – payments.
Online
The most well-established payment system is Paypal, who have dominated the online payment market for some years now. With regards to the online facet of Apple Pay, Apple hope to capitalise on their vast array of app developers who are always willing to implement native Apple functions into their apps. Take for instance Amazon, who authenticate payment using Apple's TouchID (fingerprint recognition) software – allowing the user to sign in and place orders – with a touch of their finger. Apple Pay makes a subtle change to this however, as instead of storing your payment details into the Amazon app, or any other retail apps for that matter, Apple make the payment on your behalf. Essentially, the security concerns arising from hackers infiltrating the databases of a multitude of online retailers and extracting financial details are being addressed. The presence of Paypal on mobile apps is notable, but by incorporating a native payment system into apps on supported devices, Apple expect to chip away at their competitors' dominance, and boast the largest market share in the online payment industry.
With a quick glance at the UK App Store, it's already clear that the most popular High Street retailers have already incorporated Apple Pay into their interface, with Zara being an example below: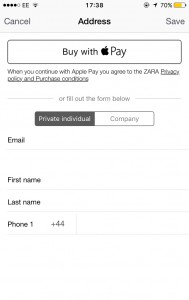 POS
The lion's share of interaction with Apple Pay however will come from POS transactions, and the UK could potentially be the kingmaker with regards to deciding who dominates this aspect of the consumer experience. Apple's relatively disappointing results in the USA were a wake-up call to the company, although not all fault can be attributed to Apple itself. Unlike the UK, the average American consumer relies on cash or old fashioned magnetic-strip payment cards. Considering Apple Pay is more likely to be a popular choice of payment for increasingly cashless economies such as the UK, in which Chip and PIN or contactless NFC (near-field communication) dominate everyday transactions, Apple's US experience is to be expected. The UK interestingly enough is perfectly suited to Apple Pay, and that would definitely have influenced Apple's decision to go live here before other overseas territories.
In addition, Apple Pay can capitalise on the fact that contactless payment has become embedded in the UK payment culture, meaning much of the groundwork with regards to getting the average consumer to try out the system has been done already. As a payment method, UK consumers will be more inclined to assimilate Apple Pay into their retail behaviour, especially due to ease of use. It is as simple as holding the device to the NFC-enabled reader and placing a finger on the Home Button. There is no doubt that consumers will be open to using the system as time passes – however there is a burning question many potential users have been meaning to ask: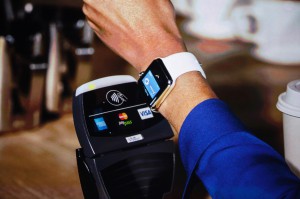 Why use Apple Pay when I use contactless payment cards anyway?
This is a perfectly valid question to ask, as at first glance Apple Pay would appear to be another gimmick – of which many exist already. Apple Pay however, much like the security benefit attached to online payment, has an advantage over established methods of contactless payment. With the existing system, consumers touch their payment card, authenticate without having to enter their PIN, and can be on their way – much like Apple Pay. Unlike Apple Pay, merchants (retailers, small shops, businesses) are given the payment details of each consumer that uses contactless card payment (card numbers, expiry dates etc). As shown below, Apple Pay doesn't give merchants any of the consumer's payment details at all but actually gives them a virtual account number:

This virtual account number does two things, first of all it keeps your financial details secure, and secondly, it also hides the nature of your purchase from Apple. The only parties that will be privy to information about the sale will be the consumer and their bank or credit card provider. With traditional Chip and PIN or contactless card payment, the consumer, their bank and the merchant all have these details to hand. Likewise, the main security issue with contactless payment – anyone getting hold of your card and tapping away for fun – has been avoided. The system has to be authenticated using a fingerprint every time.
There will of course be teething problems, as a number of the major banks haven't incorporated Apple Pay support into their ecosystem yet, and merchants all over the country will need time to ensure their POS units are compatible.
Apple Pay is fast, safe and simple – exactly what the modern day consumer is asking for.